As you all are aware, while we are a completely online broking firm, the account opening process in India still requires offline processes for completion. We still have to sign physical copy of forms and other documents. We hope that we are not far away from the day when account opening can be done online and instantly.
Today, you can ask us to courier you our account opening forms which typically is a much slower option, with time taken in sending you the courier and receiving it back with your details filled in.
The preferred and popular way though, is to open an account by printing your own application forms. As an additional incentive, we give a discount on the account opening fee to those clients who print their own application form.
We are also happy to announce that our in-house DP business is live now. Our latest account opening forms are updated on the downloads section of our website.
Our account opening fees are as follows :
If you print your T&D forms, Rs 200 for Trading and Rs. 100 for Demat, Total Rs.300

If you fill out our forms, Rs.300 for Trading and Rs.100 for Demat, Total Rs.400

If you opt for priority, Rs.350 for Trading and Rs. 100 for Demat, Total Rs.450

AMC charges of Rs.300 are collected at the end of the financial year on a pro-rata basis and the Demat account opening charges are Rs.100

DP charges are Rs.8 +Rs.5.5 = Rs.13.50 which is charged only on the sell side of the transaction

If you already have a trading account at Zerodha and you wish to open a Zerodha Demat account, the Demat forms are now available in the
download
section of our website. No account opening fees for Demat for existing clients.
Those of you who already hold an existing IL&FS demat account and who wish to migrate to Zerodha Demat can send us a closure letter along with the new Zerodha demat account opening form. Also from now on, if you wish to open only T&D or T&D&C only one set of account opening documents are required.
Once you have decided on what kind of account you would like to open, you have various options to get started with us (check out the preferred way – Zerodha online account opening form):
1. Call us on 080-49132020 or send an email to india@zerodha.com with your contact information or visit our website and leave your contact information and one of the Zites (people working at Zerodha) will call you back and help you with the account opening process. The link on our website where you can leave your contact information is shown below.

2. If you have no queries and want to jump right into the account opening process you can do either of the two:
a. Print the application form which is available on the downloads section on our website and follow the instruction sheet to ensure that your documentation and signatures are all in place. Please ensure you don't miss out any signatures when signing the documents and follow all the steps as per the instruction sheet. See the pictures below:

Downloads Section of our website: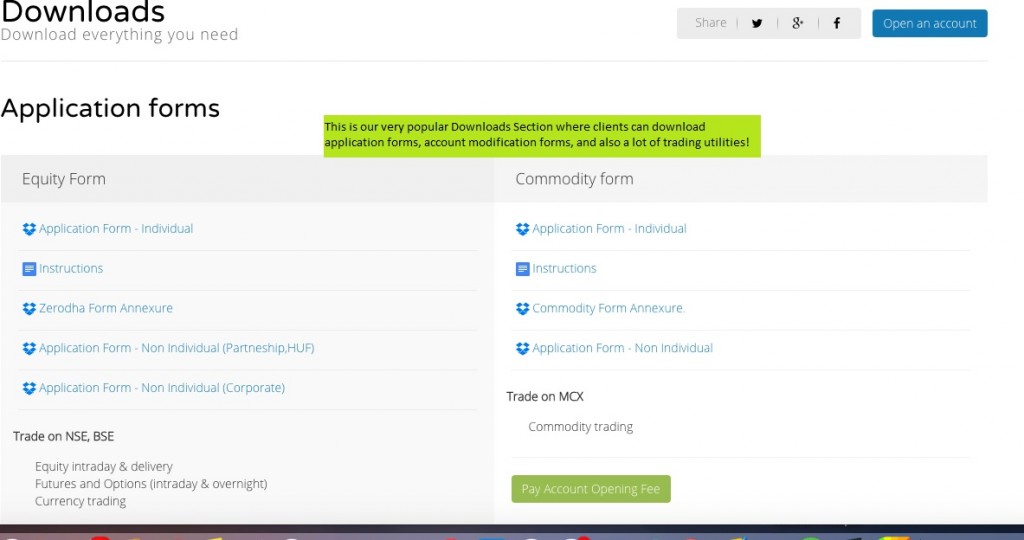 b. Preferred way of opening your account is through the Zerodha Online Application Form:
Through the Zerodha Online Form, you can fill your application form, upload scanned copies of your documents and have them verified by our representative. Once the documents are verified by us and if they are as per the requirement, we will print the forms and send it to you through courier. After which you will have to sign wherever needed and courier the form back to us. This is a brilliant tool and again amongst one of the firsts that Zerodha has started in the broking business. Follow the steps below to make use of our online application form:
Step1
: Go to the Open an Account link on our website:

Step 2
: Follow the instructions as per the image below. Once you receive your online form password, you can login to your online form wizard and fill in the relevant details and have them reviewed by us. The details that you enter will be saved automatically so you can log back in anytime at your convenience to complete the process. See the picture below: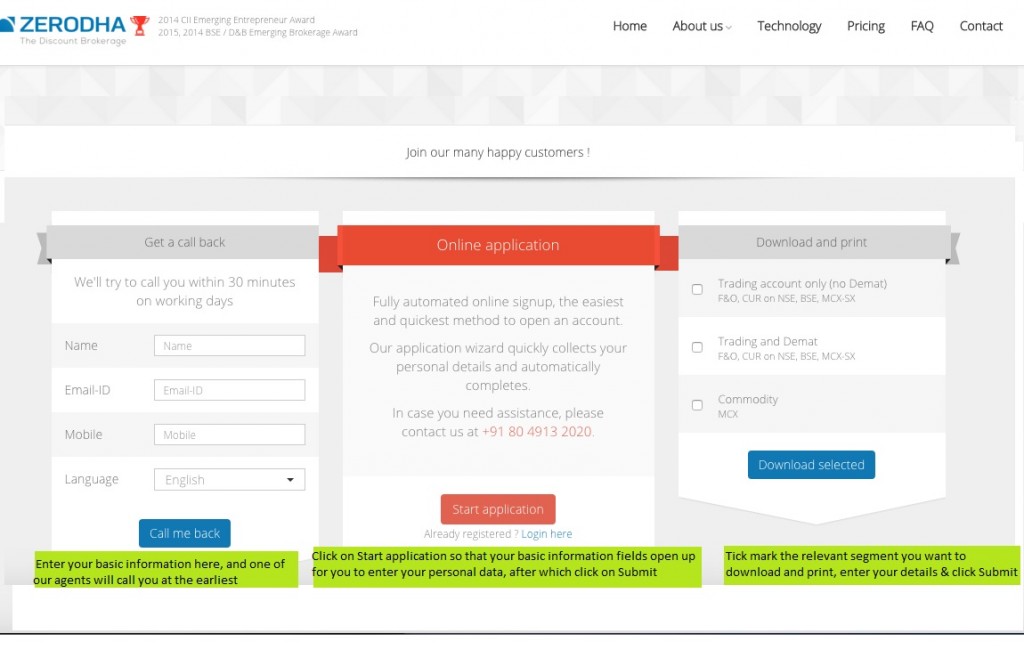 Step 3
: Fill in all your personal information as shown in the picture below. While filling the information make sure you do it as per the instructions that popup on your screen. Check out the image below: